Some days I feel so overwhelmed by all of the chaos going on around me. I feel out of control and like nothing I'm doing is working. Have you ever felt that way? Have you ever just thrown up your hands towards heaven and cried out, "Lord help me! I don't know what else to do."
Honestly, I feel like I'm in that place right now. I have friends who I know are in that place too. We feel helpless and powerless compared to what we're facing as parents, wives, employees, etc.
I love God and know what He's capable of doing, but some days I feel like I'm at my whits end and wonder when will I get a little relief. Even though I feel helpless and powerless, I know I'm not. The truth is life happens and sometimes we all feel helpless as a result of being mentally, physically, and emotionally exhausted.
"The enemy wants you to ONLY see the challenge set before you. He doesn't want you to see the victory that is yours in Jesus…"
During my quiet time a few days ago, I cried out, "Lord help me. What I'm doing isn't working but I know You're still working. Show me what to do while I wait for you to move." I then opened my You Version Bible App to a bible plan that encouraged me to read 2 Chronicles 20. As I read I was encouraged to use my mouth to praise God in the midst of crisis and disappointment.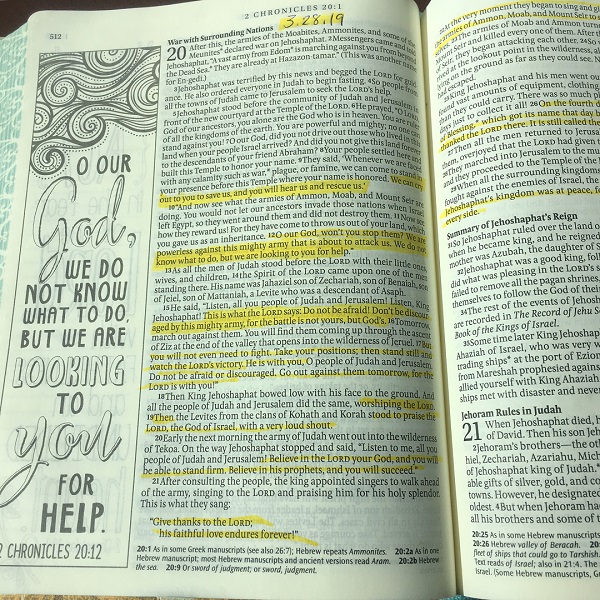 Our mouth and our praise are two powerful weapons that makes the enemy pee in His pants when we use it. Well there's no proof that he wets his pants, but I like to think he does anyway. #DontJudgeMe
I was raised in the Church since I was in the womb and I attend services frequently so I use these weapons all the time at the first sign of fear, worry, anxiety, etc. right?
Wrong! I know there's power in my words and I know that I have the power to speak death or life over me and my situation (Proverbs 18:21), but I don't always do what I know to do.
Honestly, sometimes I begin to speak what I don't want to happen in hopes of it not happening instead of speaking the promises God told me I would see.
"Here's the deal. What the enemy wants us to do is to become so busy trying to find a way to win a battle, when the battle has already been won."
I'm usually pretty aware of what I'm speaking and thinking but ya girl have her days y'all. Because I like to keep it real with y'all, I want to share some other ways I've responded when I was feeling worried or anxious?
Grow weary – I grow weary after feeling like I've been marching around my "walls of Jericho" and nothing is happening. The "walls" I'm facing won't even budge, not even just a little bit. I know I shouldn't grow weary when I do good but chile your girl be about to faint sometimes (Galatians 6:9).
Get distracted – I find myself distracted by what's going on around me instead of remembering Who is in control of the entire universe and remembering the powerful weapon He has given me authority over to speak to the mountain and tell it to move (Mark 11:23-24).
Forget I have help – I forget that I serve a God who tells me in Psalm 91:14 I can call out to Him and He will help me. I don't have to do life alone.
Be anxious – I allow my worry and anxiety to control the way I think (which usually affects my sleep patterns) instead of remembering I serve a God who says, "Be anxious for nothing and receive the peace that passes understanding. Bring every burden to the throne of grace. I'm just waiting to help you. You don't bother me when you cast your cares upon me. I never get tired of hearing your needs." Philippians 4:6-7
"For verily I say unto you, That whosoever shall say unto this mountain, Be thou removed, and be thou cast into the sea; and shall not doubt in his heart, but shall believe that those things which he saith shall come to pass; he shall have whatsoever he saith." Mark 11:23, KJV
But then something happens, just as it did early that morning. I receive encouragement during my quiet time in the Word, from a friend, or even from an encouraging quote that brings me back to "my senses" and reminds me I'm not helpless and to call out to to God to help me.
So, what do you do when you don't know what else to do?
I suggest following the example of King Jehoshaphat and the people of Judah and Jerusalem in 2 Chronicles 20. I also suggest reading the story if you have some time. It's not very long. I promise.
"O Our God, We do not know what to do but we are looking to you
for help."
2 Chronicles 20:12
King Jehoshaphat received a message that 3 large armies were coming for him and had every intention of annihilating him. They were coming to completely destroy him and his people. Jehoshaphat was terrified but his first response wasn't to speak what he was afraid of, and it definitely wasn't to do what I sometimes do:). He used his mouth to call out to God for guidance and the Lord helped him. In the end the armies were destroyed and Jehoshaphat and his men were blessed by all the clothing, equipment, and other valuable items that were left. "So Jehoshaphat's kingdom was at peace, for his God had given him rest on every side." 2 Chronicles 20:30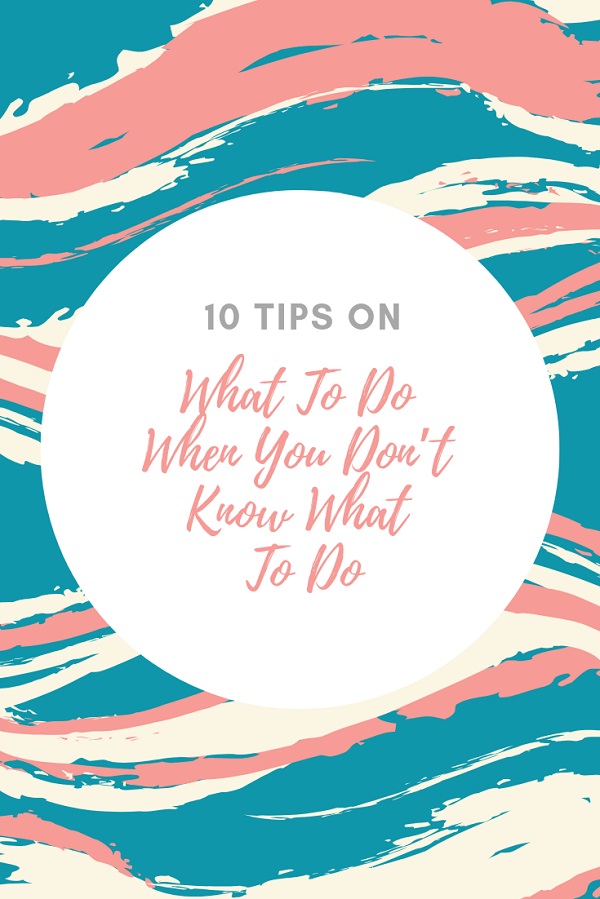 Below are 10 tips I encourage you to use when feeling helpless:
Call out to God for guidance/help – The Lord sincerely wants to help you. He wouldn't tell you to call out to Him if He didn't.
Fast – Fasting helps us to take our eyes off the things of this world and instead focus on God. Don't focus so much on the what and instead focus on the actual act of doing until you hear from God. "In the consistency is where the power is." – Kim McQuitty
Pray and remind God of who He is and what He has blessed you with/promised you – Jehoshaphat reminded God of how powerful and mighty He is and how he gave the land to Abraham's descendants who settled there and built the Temple to honor Him.
Listen – Know the people in your circle who are genuinely praying for you/with you

and

listen to wise counsel. The spirit of the Lord came upon one of the men in the midst and He told them what the Lord said (#5 and #6).
Do not be afraid – God is with you!
Do not be discouraged – The battle isn't yours, it's the Lords.
Position yourself, stand still, and watch the Lord's victory – Still your heart, mind, and soul and wait patiently as you watch God fight for you.
Worship AND praise the Lord – Surrender yourself and your will to god and acknowledge the things He have done (be joyful).
Remind yourself and those around you to believe/have faith in God. – Because we sometimes get distracted by what we're facing, we tend to forget what God promised us. Having people around to encourage you and remind you to focus on truth, God, and His promises helps to shake you out of that helpless place you feel you're in.
The next day as they were headed to battle Jehoshaphat stopped and said, "Listen to me…Believe in the Lord your God, and you will be able to stand firm. Believe in his prophets, and you will succeed."
Give thanks – Jehoshaphat thanked God before he won the battle. Joel Osteen says, "When you are truly living with an attitude of thanksgiving, you don't just thank God for what He did in the past, you aren't just thankful for today, but you also thank Him for what He will do in the future. You are thankful that He will open new doors. You are thankful that He will increase you. You are thankful that He will bring the right people into your life.When we thank God in advance, it's really a declaration of faith. Your thanks is saying, 'God, I'm so sure of Your goodness, I'm so sure that You're working in my life that I'm going to thank You right now for what You are going to do tomorrow.'"

BONUS: Walk in peace

– For me being at peace isn't denying that I'm in a storm. It's being aware that I'm in a storm but I'm not in the storm alone. It means that I know the all powerful God who is able to control the direction of the wind and waves are bigger than the storm I'm currently in, and He will not allow me to get swallowed up in it.
So did you take time to read the story? If so, you will see "God's response to Jehoshaphat's prayer shows us a beautiful aspect of God's nature. When God moves through us, He emphasizes our authority. When God moves for us, He emphasizes our sonship. God told Jehoshaphat to 'stand still,' because He wanted to fight for him, giving Jehoshaphat the position of a son who can rest in his Father."
I failed to mention that I woke up about 4:30 AM that morning to pray and study. After reading this story I dozed back off about 20 minutes before my 6:15 AM alarm sounded. When that happens I usually wake up sheepish but I was feeling well rested, rejuvenated, and encouraged. I hope you will also find encouragement, peace, and rest in knowing that God sees you, He hears you, and He's working things together for your good.
Let's grow together. Do you have some tips to share of your own? If so, please share them in the comments section.
In His love,
Tiffany
P.S. If you found this post helpful will you kindly share it with someone who you feel can use it?